Caribbea Bay is a Mediterranean-styled resort, situated on the shore of Lake Kariba. With the opportunity to experience the thrill of tiger fishing and game viewing during the day.
Tiger Bay and Chura Bush Camp, situated a short distance from each other. They are both set on the banks of the Ume River, an area which has been described as one of the most unique and scenic parts of Lake Kariba.
Bumi Hills Safari Lodge is situated on top of a hill approximately 55km south west of Kariba town. With the Zambezi escarpment as its backdrop, The Lodge overlooks the foreshore below and the vastness of Lake Kariba.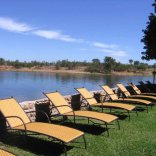 Situated on Lake Kariba in the middle of one of Africa's most spectacular lakes, overlooked by the majestic Matusadona Mountains, lake Kariba accommodation at Spurwing Island Lodge is the perfect place for a tranquil getaway for the wildlife enthusiast..